Share this:

 

359

 

66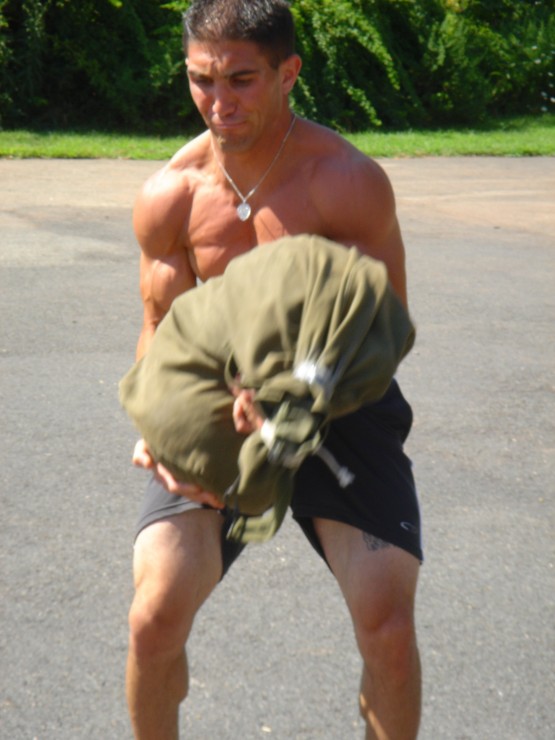 Sandbag training has been one of the most powerful methods I've implemented with training my athletes. The various sandbag workouts & exercises have developed a type of strength and mental toughness that is unique to say the least.
Using sandbags has helped with developing explosive power, brute strength, mental toughness and has even reduced injuries and weakness in odd / awkward positions that tend to happen during sports such as the round back position in wrestling, lifting opponents from the ground and moving awkward objects (such as another person!).
Sandbags have gotten our athletes stronger and more comfortable in the "ohhhhh shit" position that would normally injure or render someone else helpless. Mel Siff called this "imperfect training", where you purposely train in an awkward position to prepare the body for the "imperfect" moments that happen in sport.
Check out this video of some of my favorite Sandbag Exercises & Sandbag Workouts that I have found to be the most effective for training our athletes.
Here Is A List Of My Favorite Sandbag Exercises:
1. Sandbag Power Clean
2. Sandbag Shouldering
3. Sandbag Clean & Press
4. Sandbag Zercher Squat
5. Sandbag Zercher Lunges (reverse or walking)
6. Sandbag Back Squat / Shoulder Squat
7. Sandbag Bear Complex (Clean & Front Squat, Press Overhead & Onto Your Back, Back Squat & Press Back Over Head, Down to Floor & Repeat! OUCH!!)
8. Sandbag Zercher or Bear Hug Carry
9. Sandbag Get Up
– See more at: http://zacheven-esh.com/9-best-sandbag-exercises/#sthash.TgMjv6jP.dpuf
 I am always up for trying something new when it comes to working out.  There is something fun and exciting about getting a new piece of equipment, trying a new class or working out with a new friend.  The Ulitmate Sandbag is a new-to-me piece of equipment that I have seen so much about on fitness magazines, blogs and BodyRock.com. 
Here is a little information about it! 
1. Most Durable Sandbag On The Market, the Ultimate Sandbag is:
30% stronger than any other material on the market today!
Waterproof
Highly resistant to dirt, mildew, oil, salt, chemicals, and UV.
Superior in strength.
And, it will not tear, stretch, crack, rot or mildew.
2. Easy on Your Skin!
Made of proprietary military grade materials.
Non-abrasive to the skin.
Non-irritating to the knuckles or hands.
3. More Comfort and Versatility
Avoid handles that dig into your skin and make training painful
Easy to wipe-off in between sets or workouts
Makes it easier and more comfortable to perform intense conditioning workouts
Build hundreds of progressive exercises with our strategically placed Ultimate Sandbag handles.
I was impressed with the sleek design and the many handles that the sandbag had.  It made for many options on tough workouts.
A workout to try
(adapted from Bodyrock.tv)
1) Sandbag Swing using the sandbag
2)  Mountain Climbers
3) Sand bag lift side lunge using the sandbag
4) Push Up  with leg lift
5) Plank Sand Bag Pull using the sandbag
6) Burpee with sandbag
Share on Facebook